The WalkingJacketTM for Cats
We are the manufacturer of this unique, patented design. It incorporates a collar and two girth straps for a highly customized fit. The fit will be snug and comfortable.

Can you teach your cat to walk on a leash? Tens of thousands of cats have learned to leash walk with the MetPet.com patented Walking Jacket TM!


Here are the easy instructions that will come with your new Walking Jacket.

TO START:

Leave the Walking Jacket around for a few days to let him sniff and get used to it.

TO FIT: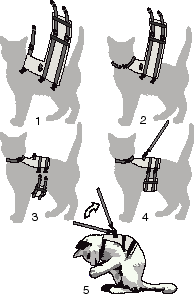 1) stand your cat up straight.
2) adjust and buckle the collar so that it is snug! You should not be able to pull it over his ears!
3) adjust and buckle the girth straps so they are snug but comfortable and the fabric curls smoothly under the stomach. Some wrinkling is inevitable and is fine.
4) attach the leash.

At this point, many cats promptly lie down! This is a strange but natural reaction and can be really amusing.

TO WALK:

Associate wearing the Walking Jacket to going outside. When the jacket goes on, he gets to go out even if it's just to the front porch!

Start at night or early morning when it's quiet. Cats can learn to follow but it's easier to let them lead.

Cats are start-and-stop walkers. They go under cars, behind bushes, through fences. To redirect him, hold the leash firmly until he decides to move in another direction. A dangling toy or tidbit also helps.

5) if he faces you, puts his head down and backs up, he is trying to squirm out. Simply move off to one side or hold the leash up higher.

Think of the Walking Jacket as a turtleneck sweater and this makes sense. Cats generally learn to leash-walk in less than 1 week. Individuals are different so have patience and fun!

PLEASE! Never leave your cat unattended in the Walking Jacket!

Available in multiple colors, 2 adjustable sizes and the HardSided Walking Jacket in the standard size. The HardSided Walking Jacket is to your left in the photograph below with the SoftSided Walking Jacket to your right.
The HardSided Walking Jacket uses a breathable plastic insert in the wrap around portion. It keeps the Walking Jacket smooth alongside the body and is best for frisky cats. It is considerably stiffer and somewhat heavier than the SoftSided Walking Jacket and is currently available only in the standard size in all five colors.
Please note that the HardSided Walking Jacket is a specialty product and most cats and people will choose the SoftSided version.
Please note that many cats may crouch down to the floor when they are first outfitted with the Walking Jacket. This is often a reaction to wearing clothes for the first time and is similar to the discomfort of wearing a seatbelt for the first time. It feels odd to the previously unclothed cat. If your cat enjoys going outside, place your cat in the WalkingJacket and let him go outside. The strong association between the WalkingJacket and the outdoors will let her adapt quickly.
We strongly suggest venturing out of doors at night when it is quiet and there are no people or animals about. Other ways to form good, strong associations for the Walking Jacket are playing with a favorite toy, some catnip or some tasty treats.
The Walking Jacket is available at the MetPet.com SHOP and at a retailer near you!

---"I purchased one of these in April for my 4 cats and it took only a couple of days for them to ASK to be put into it to go outside!"