Lettuce for Cats
Adding roughage, interest and hydration to your cat's diet
MetPet.com Staff Writer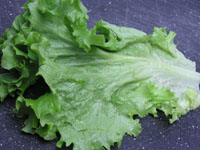 Lettuce can be a helpful addition to your cat's diet. It provides bulk, moisture and nutrients. If your cat is overweight, lettuce is a low-calorie food that will help fill him up. If you have recently switched from moist foods to dry kibble, your cat may need more water in his diet and the lettuce can help. It is also a nice change of pace for an indoor cat without access to a variety of grasses and interesting weeds.
Try slicing a lettuce leaf into very thin (like grass blades) slices. You can try romaine which is easy to cut or whatever you have in the frig. Take a large leaf and roll it like a cigar. Then, carefully with your sharp kitchen knife and with the fingers holding the leaf rolled under to protect your fingertips, slice through the multiple layers to get matchstick-skinny slices.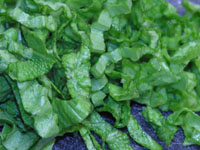 Place the lettuce alongside his regular dish. Cats are notoriously suspicious of new things so don't be discouraged if he ignores it initially. Add it on a regular basis and he may just get the idea.
Outdoor cats chew on grass and indoor cats chew on houseplants. Therefore, lettuce shouldn't be too much of a leap even for your carnivorous feline.