Walk the Dog Rain Boots
Things for Dog People
With styles ranging from the industrial to the most stylish, a pair of warm and dry rubber rain boots can make daily dog walks fun
MetPet.com Staff Writer
It's another dreary day of rain with the soggy grass and muddy paths that come with the season. It's easy to forget about the long dog walks and opt instead for a quick shove out the back door. Rain or shine though everyone, especially the family dog, needs the daily routine of long walks and exercise in the fresh (if damp) air. Without the routine dogs can become anxious and bored and put on that fall and winter weight as well.


Perhaps you'll feel more like walking if you can slip on a pair of warm, dry and really interesting-looking waterproof rubber rain boots. Rubber rain boots will keep the mud and muck off of you and they are easy to clean afterwards. The largest puddles at the dog park or acres of wet, clingy grass are no longer an obstacle with tall, waterproof boots.
Try one of the classic Wellingtons (Wellies for short) in the

photograph above in decidedly modern colors. They are durable and will last years. They can be worn all through the fall and well into the spring. Or try one of the many rubber and vinyl styles that barely look like rain boots.
Luckily, there are a large number of interesting rain boots out there in your choice of colors and, mostly if you're female, your choice of interesting patterns. You're no longer confined to bright yellow fisherman's boots if you prefer cowboy boots with heels instead or boots patterned with all manner of animals, insects, flowers and even skulls and skeletons.
Rain boots come as ankle heights, mid-shaft that extend halfway up the calf and tall boots that come up to your knees. Mid-shaft boots tend to be about 12" high; add a couple of inches more for tall boots.
Rain boots also come as simple slip-ons or with laces or buckles to adjust the fit around the calf which is essential for those with very thin or very muscular calves or for those who wish to have the options of thicker or thinner socks or stuffing sweats or jeans inside the boots.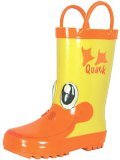 They range in price from under $20 to much more and can be found in fancy department stores or at your local feed & seed store. There are also lots of fun boots for children which may encourage them to get out of the TV room and go outside to seek rainbows.
If rubber boots are not lined, they can be quite cold so you will want to order them a half size larger so that you have room for warm socks. Look for good traction and enough flexibility so that you can walk comfortably. They can be too bulky for comfortable driving so we keep them in the trunk and change into them when we get to our destination.
Here's another handy idea. If you're off and running on numerous errands, you can pull on a pair of these over-the-shoe rain boots. You can keep a pair in the car or in the garage and slip them over sneakers or street shoes. You can save the trouble of having to change socks or untie laces or generally do anything that takes away from dog walking time.
The best part about rubber rain boots is the quick wash with the hose or rinse in the sink that is all that's required to keep them clean. Hose them off, wipe them dry or let them air dry. You can keep them in the closet or by the door and store the leash and spare keys, plastic bags, flashlights, etc. in them so everything is ready to go at a moment's notice.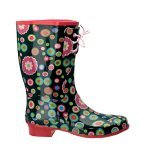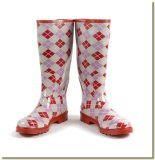 Rubber is quite durable if kept away from heat sources that can dry them out and cause them to crack. If you get a well-made pair of boots and your feet don't grow, they should last you for years.

Related Information:
Walk the Dog Wool Socks