Emergency preparedness for your cats: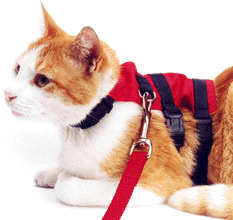 Add a
WalkingJacket
to your cat's emergency bag. Even with a carrier, you will need a harness and leash if you want to safely take your cat out.
Once your cat is used to wearing it, you can leave it on inside the carrier without the leash for short trips.
Choose from 2 sizes, 5 colors and from our classic Soft-Sided or our new Cushioned.
Try our
NEW Cushioned WalkingJacket
for extra security and comfort.
"These jackets are just wonderful!! My cat has hers on and loves it." - M
New Products
Mouse Midnight
How skilled a hunter is your cat?
Try the all-black, difficult-to-see Mouse Midnight.



Parakeet Bird-On-A-Wire
Shown here without the attached
40" long rod and wire handle.

AirSpinner Turkey Feathers
Shown here furled with the 40" long rod
and wire handle furled for storage.