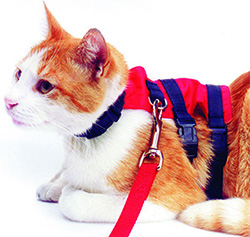 Have you walked your cat today?
Is your cat climbing the drapes and shredding your best sofa? Are you planning to travel and wondering how to manage your cat safely? Does your indoor cat pine for the great outdoors?
The WalkingJacket is the safe, comfortable harness that is essential for every cat. It comes in 2 types, 2 sizes and 5 beautiful colors.
Our unique and original PATENTED design cradles your cat. Thin-strapped harnesses can dig into your cat and do not provide the wide coverage of the WalkingJacket.
The WalkingJacket has one collar strap and two girth straps attached by our unique "L"-shaped sport nylon fabric. Each strap is secured with contoured buckles (not velcro which we found unreliable) and all of them are on top and on the same side where they are easy to use.
Every cat should have a WalkingJacket and leash inside her bug-out, travel and overnight kits.
Can you teach your cats to walk on a leash? Yes! Please see our
INSTRUCTIONS
. Cats of all ages, sizes, breeds and backgrounds have learned to leash walk with the Cat WalkingJacket
TM
Unlike regular harnesses designed for dogs, the Walking Jacket is made specifically for cats. Cats are unique and deserve their own harness design.
The Walking Jacket is made just for the special physical and psychological needs of cats. Just as you would not pick up your cat with just your fingers, why put your cat into a thin-strapped dog harness?
The WalkingJacket's three wide straps and sport nylon fabric cradle your cat to make him feel as if she is being held securely by your hands. When she feels comfortable and secure, she is much more apt to go walking rather than go hiding.
Please note that the leash is not included. Any standard dog or cat leash can be used. We recommend a 6 foot long 5/8" wide nylon leash to begin.
For more information see:
TESTIMONIALS
and
INSTRUCTIONS